Do you have a chance to build a career?
Article #3: Do you have a chance to build a career?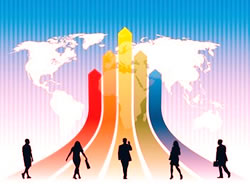 Nowadays the youth, competence and even talent don't give you absolute guarantees in obtaining the high position. Frequently it depends on the stable ties, preferences, patronage and favor, particularly in large corporations. The usual age of applicants, inviting to vacancies of top managers, are from 27 to 40 years; but, as a rule, this factor isn't definite.
What's important?
Other criteria are more significant in the career growth aspects - experience, education, language skills and similar attainments. But in each company their own rules exist. For instance, experts allocate Investment and Construction Corporations. The important demand for senior positions' candidates is the age between 30 to 50 years here. Moreover, they obviously prefer more adult candidate. Choosing prospective leader, such companies rely more on the manager's experience at this sphere.
During your road to heights of achievement, remember that career development can't infinitely proceed. Also keep the thought that selection is getting tougher every day. So, a suitable position for your high demands, experience and qualification - wouldn't be found one day. Consequently, you have a choice - either grow in your actual company, or look for a new place, knowing that the search can take longer.
Elevators are going slower
Building the prosperous career, try to "catch" the right "social lift". It matters a really good deal to you. Although, in experts' estimation, the last years show that the "elevator's traffic" has slowed down. In that way, now it is quite difficult to occupy the leading positions than some years ago; thus, demands to the specialists' competence are really high. They have greatly improved today.
Among the leaders of the labor-market there are many who distinctly understand what knowledge, skills, qualities the candidates should possess; in addition, experienced leaders are actually able to estimate the best applicant. So, they are seeking a maximum of competence for inferior price now. Times, when for occupation of a high appointment there was enough only indefatigable desire of a person, are irrevocably gone. Nowadays, any mistake can become really the last one. Meanwhile, there are many interested people on the market of careerists, but the choice is impossibly scanty.
Today's trends in the employment assistance
Nowadays some companies start building their own planning systems of staff career development. Many of them try to inform the manager, showing a proper spirit during the job fulfillment, at which exact point he should be promoted. Such system of motivation is built with due regard for the "reservation" of "professional elite" - "talent pool", "gold fund" or "the key personnel". In such companies career plans are also promoted - coordinating within work contracts. And if the high career promotion is not guaranteed by them, it should be specified in terms of mutual commitments.
Nevertheless, in compliance with increasing value of well-educated experts, there appear companies which are ready to take unpracticed novices - "verdant" people, college or university graduates - and train them by own forces. So, even a beginner in the business can make a rather rapid career and occupy a top position; as a rule, it takes about a year or more after joining in such developmental team. But similar approach isn't widespread today.
It is known - the more civilized and democratic society is, the better and stable career growth a person can get. Having graduated from school and college (preferably with honors!), it is necessary to add continuous progress, diligence, assiduity, etc. The patience and acting can bring a beginner into the large, dynamically developing organization; subsequently, rise and ascend to the cherished appointment of an ordinary expert also begins. But a worker of such age has neither necessary ties, nor experience. By 35-45 years the person has reached so wishful result. And already from now he is ready to occupy a key position.
Author:
Job-less.info
- Find the right job for you
Did you like the article? Share this on:
Back to the
Articles' page